Jaap de Boer
While Jaap began his career as an artist in magazines such as La Vie Ouvrière and Super Hercule (a spin-off of Pif Gadget), it is clear that over the years his reputation grew more through his illustrations of pretty girls.

Sexy but never vulgar, they are now well known among pin-up lovers.

Henri Filippini actually counted him among the 100 best artists of female comic characters in his Encyclopédie la BD érotique, published by La Musardine in 1997.

After a stint as colourist for Percevan, drawn by Jean Léturgie, Jaap worked on an erotic parody of Natacha l'hôtesse de l'air, a series drawn by François Walthéry: Nathalie la petite hôtesse, published in 1985, also taking on writing duties for two sequels: Magali la petite infirmière in 1988 and Stéphanie la petite duchesse in 1989.

Next, Glénat entrusted him with the adventures of BamBou: Pile ou Face au Colombzuela, an all-ages volume starring a female counterpart to Indiana Jones and written by Jean Léturgie.

Until 1991, Jaap de Boer drew in collective works (Isterix for Vent d'Ouest, Un autre monde for Agorna, etc.).

The X-rated magazine Hot Vidéo ordered Aventures de Loola bi Bop from him – a humorous full-page strip, it would open the door for Jaap to become illustrator for numerous erotic magazines, both French and foreign: Glamour, Intrepida, Furioso, Pulsions Magazines, Love Party, X Mag, BD Adult, BD X….

Under various pseudonyms, Jaap would draw almost 300 pages of adult comics. He also drew hentai manga under the name Obi Yamoto.

His next heavenly creatures are soon bound to make an impression. The artist changed his work methods entirely and voluntarily abandoned all computer tools, which he considers overused nowadays; he returned to the classics and watercolours.

Thus will Anastasia, the beautiful and aloof Slav, and Vérité, the cold, timeless nude, soon reveal themselves in the first volume of the Secrets de Gérôme, coming in 2014 from Inanna Editions.

For more information, visit Wikipedia or his Bédéthèque page. For more direct contact, see his Facebook page and Personal website.
Articles on sale or in progress :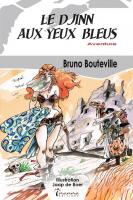 Le Djinn aux yeux bleus
Roman d'Aventure
Le Djinn aux yeux bleus

9,80 EUR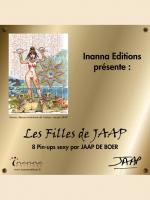 Les Filles de JAAP
Portfolio de Pin-ups sexy par Jaap
Les Filles de JAAP

35,00 EUR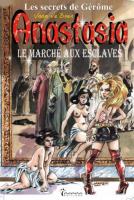 Anastasia 1
Le marché aux esclaves par Jaap.
Anastasia 1

15,90 EUR