Edmond F. Ripoll
Edmundo Fernández Ripoll, or just Edmond, is a Spanish artist, born in 1938 in Barcelona.

He began his comics career in 1960 working for Brughera, after starting out in advertising.

His first works were published in women's magazines such as Celia, As de Corazones and Sissi.

He also handled several adaptations of TV series – Rintintin, Bonanza and Bronco, for example.

In 1973, he drew Supernova for writer Victor Mora (Samantha in Shirley and Shirley (Special)).

Later, he illustrated Fantasia S.A. for Andreu Martin (published in Antarès as Fantasia et Cie) and (published by Lug) for Claude-Jacques Legrand (in the magazine Futura, from 1972 to 74).

This superb series that is Brigade Temporelle will also reissued for the first time in its entirety by Exagon Comics in 2012.

He took on the writer's role in 1979 for the series Jan Europa (Jan Lazare in Yuma), then for Dr Impossible, Eva Star, and Fede and their colleagues, Cinematica, Sindy, The Life Critics, The Tribe, and Telavision are, unfortunately, still unpublished in France.

He later worked with numerous magazines such as Mortadelo, Chicas, El Periódico, Tiempo and TBO (for movie parodies).

For more information, you can visit his Bédéthèque page or, for more direct contact, his Facebook page and Blog.
Articles on sale or in progress :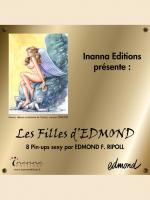 Les filles d'Edmond
Portfolio de Pin-ups sexy par Edmond
Les filles d'Edmond

35,00 EUR