Vincenzo Cucca



Vincenzo Cucca was born in Naples in 1977. He studied at the Italian School of Comics in Naples before leaving for Tampa, Florida (USA), where he began his professional artist career. He worked there for Crossgeneration Comics.

After coming back to Italy, he taught at the Italian School of Comics in Naples, then at the International Comics School in Florence.

He worked for several publishers, such as Narwain (Jenna & Ninja High School, Ho Lan), Disney Channel, the Walt Disney Company, and the Disney Academy in Milan (High School Musical), GG studio and Carabas (Route des maisons rouges), Marvel America (She Hulk), Kawama (IComics), Corriere del Mezzogiorno (Nero Napoletano), Le Lombard (Le maître des ogres), Akiléos (Maat), and Glénat/Drugstore (Greenpeace, Pandamonia, Hot Charlotte).

He also worked with the Rome-based animation studio Musicartoon to create character studies, model sheets, and turnarounds for the cartoon Teen Days.

He is currently working for the American market—with Aspen on the series "Charismagic", and, simultaneously, on a project with writer Denis-Pierre Filippi.

You can find more information on Bédéthèque. To contact him, visit his Facebook page or his Personal website.
Articles on sale or in progress :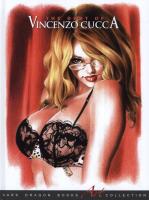 The best of Cucca
Art Book Collection.
Import des Pays-Bas.
The best of Cucca

25,00 EUR